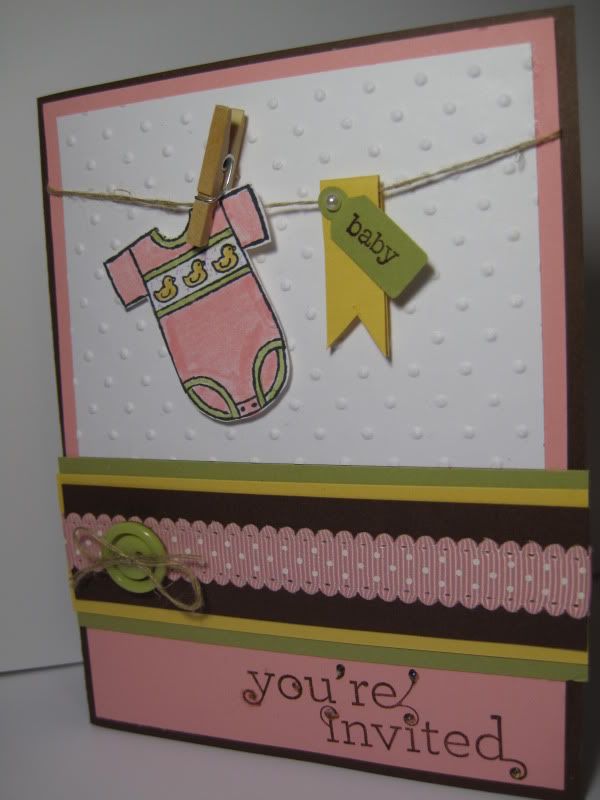 I'm working on a sample right now for a co-workers baby shower invitation. This is what I came up with. I was so happy she asked me to make her invites and I couldn't wait to order some baby stamps! This cute little onesie is from the Baby Tees Jumbo Roller stamp. I've never been into the roller stamps in the past, but I'm starting to really like them! Especially this one, there are 5 different onesies on this wheel, perfect for cutting out! My friend is having a baby girl, so she wanted lots of Pink! She loved the colour combo I chose, Pretty in Pink, Chocolate Chip, Pear Pizzazz and So Saffron.
I hung the little onesie on some linen thread with a cute little Mini Clothespin (only $3.50 for 24) and created a little pennant and tiny tag with 'baby' from the Tiny Tags stamp set.
Inside I used the stamp set Inviting ...which just so happens to be 50% off right now!!! Regular $26.95 for only $13.48!!! I added a bit of bling with some Dazzling Details....it was still wet when I took the photo...LOL
If you like this stamp set and want to get it at 50% off go check out all the deals for the Online Extravaganza on now until November 30!! Don't wait too long! Click below to go to my Online Store and start shopping now!